Platform Capabilities
At VOX, we know patients, and our technology is designed to meet their needs as well as the needs of clinicians and caregivers. Though episodes of care require standardization, the needs of and behaviors of every patient are unique. The innovative VOX solutions utilize proprietary technologies to deliver the necessary education, communication, and coordination to help patients feel more prepared and connected throughout their episode, improving patient satisfaction, outcomes and cost of care.
"With the integration of our best practices with the VOX technology that is accessible by our patients with ongoing monitoring, we are certain that the patient experience and outcomes will improve to a world class level."
Multi-Device Compatible
Utilizing the latest technologies, the VOX patient engagement platform allows for optimal flexibility and utilization across all devices.
Telehealth patients had more satisfaction with health services and enhanced quality of life2
Nine out of ten patients who used telehealthcare services would recommend it to others3
Frail elderly patients were able to use the telehealth technology which could keep them living independently longer3
Patients and family members had a stronger sense of security knowing that they were being monitored by telehealth4
Patients preferred telehealthcare over other alternatives2
Telehealthcare saved time for nurses3
Nurses who have used telehealth felt that it could be an improvement to regular care.(4)
Nurses felt that telehealth improved the outcomes for patients4
Nurses felt that telehealth was a good way to keep track of patients and obtain objective patient information in a timely manner4
Using a systems based care management program along with a telehealth tool allowed patients to stay in contact with care providers while in their home with a cost savings of 7.7-13.3 % per person1
In 91% of the telehealthcare studies that were examined there was a decrease in patients going to the hospital as compared to the groups that did not use telehealthcare2
Patients in this study who used telehealthcare had fewer emergency department visits, less use of homecare services and less use of transportation services than the group who didn't use telehealthcare3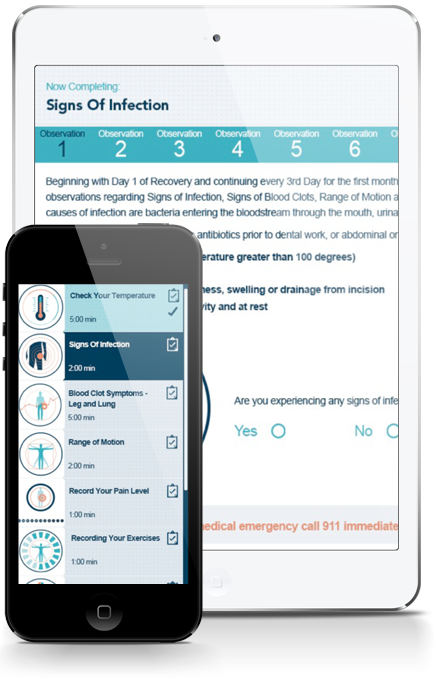 1. Baker, L. C., Johnson, S. J., Macaulay, D., & Birnbaum, H. (2011). Integrated telehealth and care management program for medicare beneficiaries with chronic disease linked to savings. Health Affairs, 30(9), 1689-97. Retrieved from http://search.proquest.com/docview/89 2. Gagnon, M. & Rojas, S. V. (2008). A systematic review of the key indicators for assessing telehomecare cost-effectiveness. Telemedicine and e-Health. (14)9, 896. 3. Finkelstein, S.M., Speedie, S.M., Zhou, X., Potthoff, S. & Ratner, E. R. (2011). Perception, satisfaction and utilization of the VALUE home telehealth service. Journal of Telemedicine and Telecare, (17)6, 288-292. 4. Roche, J. , Radhakrishnan, K. & Jacelon, C. (2012). Perceptions on the use of telehealth by homecare nurses and patients with heart failure: A mixed method study, Home Health Care Management Practice (24)4, 175-181.
Ready to Experience the VOX Platform?
Let us introduce you to our technology, designed to meet patient needs as well as the needs of clinicians and caregivers.